2019 Golden Arrows Winners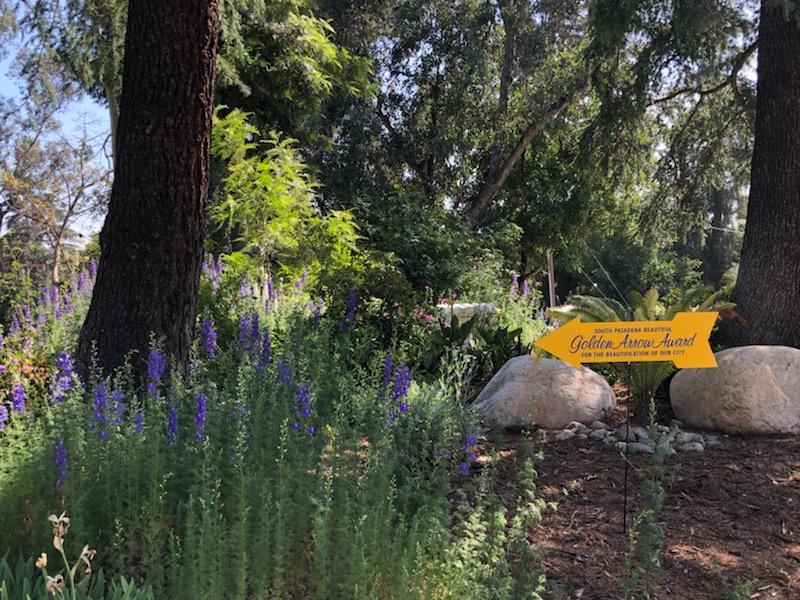 Explore the winners!
2019 Golden Arrow Awards
South Pasadena Beautiful has selected 4 private residences, Vet Villa Animal Hospital and Holy Family Catholic Church to be the recipients of the Golden Arrow Award for their outstanding job of planting and maintaining their properties. While the emphasis of the annual award is on beautiful landscaping, the appearance of the residence or building was also considered. Each of the properties beautify our city with waterwise plants that grow well in our Southern Californian Mediterranean climate.
Serving as a gateway location to our city, Vet Villa Animal Hospital at 2140 Huntington Drive has utilized primarily drought tolerant plants to bring beauty and tranquility to the South Pasadena community, pets, and clients they serve. Believing strongly in the mind-body connection, Vet Villa has designed their landscape with the intent of promoting healing.
Timothy Hillman at 1024 Milan Avenue needed to replace the loss of a 40-year old liquid amber tree in his front yard and interviewed several landscapers. Augustin Cruz - Landscape Design & Installation listened to what he wanted, came up with the design and carried it out beautifully. The design incorporates flowering plantings such as Leonotis and Pride of Madeira and succulents.
Holy Family Catholic Church at 1527 Fremont Avenue collaborated with landscape architects SWA to accomplish a vibrant design that greets parishioners and neighbors at the front of the church. The garden captures the welcoming spirit of Holy Family, integrating a variety of native and drought-tolerant plants. By reflecting the natural ecosystem of Southern California, the church lives out its commitment to responsibly care for God's creation.
Designed by Lisa Gleeson and Sergio Gomez, the centerpiece of the garden at 537 Five Oaks Drive is a dry stream bed inspired Mr. Gomez's childhood. With low maintenance in mind, the drought tolerant garden was imagined with varying textures, elevations and colors to evoke a sense of peace. Featured plants include Cercidium Tree (Palo Verde), Anigozanthos (Kangaroo paws), African daisy, Ceanothus (California lilac), Phormium and Rockrose.
The front garden of Jay Schoenau and Marilee Reynold's home at 1008 Foothill is designed to be mostly a California-native, low-water (but not dry) meadow garden with some flowers always in bloom. The driveway garden is for vegetables, citrus, and blackberries.
Councilmember Richard Schneider, M.D. and Pauline Schneider's home at 905 Buena Vista features a dry stream bed inspired by the Arroyo. The water-wise landscape includes agave, drought tolerant grasses, an Engelmann oak, a Peruvian pepper tree, Grevillea trees, and flowering plants such as purple Larkspur, Clarkia, acacia, ceanothus, scarlet bugler, desert willow and Spanish wedding bells.